February 14, 2014
7 view(s)
4 min read
The Saddle Ridge Treasure of over 1400 gold coins, with an estimated value of $10+ Million, will be marketed exclusively by Kagin's, Inc. and available for purchase at a later date through Amazon.com.
SAN FRANCISCO – Feb. 25, 2014—Rare coin experts, Kagin's Inc., today announced that a treasure of over 1400 rare U.S. gold coins has been discovered buried on private property in California's gold region. The treasure was found by a couple on their property while taking their dog on its daily walk. It is believed to be the greatest buried treasure ever unearthed in the United States, with an estimated value in excess of $10 Million.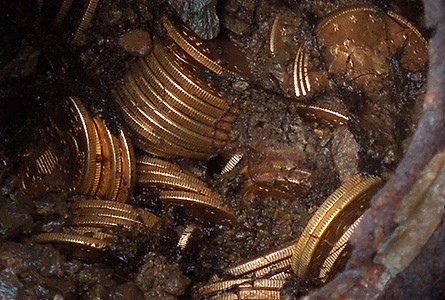 "What's really significant about this find," noted Donald Kagin Ph.D., president of Kagin's Inc. of Tiburon, California, "is that unlike other hoards and treasures, this one includes a great variety of dates, many of which are in pristine condition; add to that a wonderful human interest story: this family literally found the pot of gold at the end of the rainbow."
The Saddle Ridge Treasure is named after a feature of the family's property. Based on the dates of the coins included in the find, their condition and the condition of the decaying metal cans protecting them, it is believed that the coins were buried over a significant period of time in the late 19th century.
After unearthing the treasure, the family contacted Kagin's senior numismatist, David McCarthy, who evaluated the coins and informed them of the significance of their discovery.
"We all dream about discovering buried treasure; seeing the real thing in person – piles of gold coins encrusted in dirt and rust – the experience was just indescribable," said McCarthy. "Never in my wildest dreams would I imagine coins coming out of the ground in the kind of condition that I saw in front of me. Many pieces were finer than anything known in major collections or museums."
Each coin has been independently authenticated, graded and certified by the Professional Coin Grading Service of Irvine, California. The find comprises almost 1400 $20 gold pieces, fifty $10 gold pieces and four $5 gold pieces, all of which were struck between 1847 and 1894. Highlights of the cache include at least thirteen finest known specimens, among them an 1866-S No Motto Double Eagle valued at around $1 million.
Other highlights include finest example or tied for finest example certified by PCGS: 1866-S $20 With Motto PCGS MS62+ (finest known); 1873 Closed 3 $20 graded MS62 (tied finest known); 1877-S $20 PCGS MS65 (tied finest known) four 1888-S $20 PCGS MS64 (tied for finest known); two 1889-S $20 graded PCGS MS65 (tied for finest known); and 1894-S $20 PCGS MS65 (tied for finest known).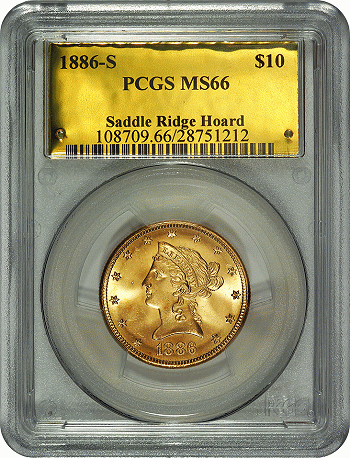 A sampling of the coins with special gold-colored foil "Saddle Ridge Hoard" PCGS certification insert labels will be displayed at the Kagin's booth (#707) during the upcoming American Numismatic Association National Money Show in Atlanta, February 27-March 1, 2014.
"One of the great things about being involved with PCGS is the occasional 'discovery coins' we get to grade. This is one of those fantastic discoveries!" said David Hall, Co-founder of PCGS and Collectors Universe, Inc.
"The Saddle Ridge Hoard discovery is one of the most amazing numismatic stories I've heard. This will be regarded as one of the best stories in the history of our hobby!" stated PCGS President Don Willis.
Through an exclusive arrangement with online retailer, Amazon.com, approximately 90% of the coins will be available for purchase at a later date via Amazon's collectibles store. This will be the first major numismatic treasure to be sold through Amazon.
The previous largest reported find of buried gold treasure in the United States had a face value of $4,500. It was discovered by construction workers in Jackson, Tennessee in 1985 and was eventually sold for around $1 million. The face value of the Saddle Ridge treasure is over $28,000.
Kagin's, Inc. is the nation's oldest family-owned numismatic firm tracing their origins to 1933. The firm specializes in U.S. gold coins especially those of the gold rushes, paper currency and classic rarities. Dr. Kagin holds the first B.A. degree in numismatics and the nation's only Ph.D. in the field.
For additional information contact
Kagin's, Inc.
1550G Tiburon Boulevard #201
Tiburon, CA 94920
415-435-2601
info@kagins.com
www.kagins.com