Kagin's April 2022 Auction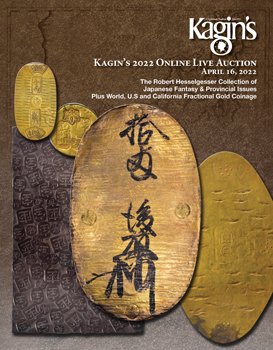 Click Here to view the April 2022 Auction virtual catalog.
---
Featuring the Robert Hesselgesser Collection of JAPANESE PROVINCIAL & FANTASY ISSUES
Plus World, U.S and California Fractional Gold Coinage
April 16, 2022, 7:00pm PDT | April 17, 2022, 11:00am Japanese Standard Time | Online Live Auction
---
Register to Bid online at Auctions.Kagins.com (iCollector)
---
Instructions for Registering to Bid Online (iCollector):
1. On upper right hand side – click on "Create Account" button
2. Create Username and Password
3. Fill in form: Name, Username, Password, Email Address
4. Click on "Yes, Keep me updated"
5. Click "Create Account" button
You will get an email saying: "Almost done, confirm your email address for Kagin's Inc."
6. Click on the "Confirm your email address" button in the email
Online bidders automatically get bidding paddle numbers starting with #9001.
---
Register for Book/Absentee Bids
Call for assistance: 888-8KAGINS (852-4467)
---
Register for Live Bidding
Call for assistance: 888-8KAGINS (852-4467)
---
Reserve your Kagin's April 2022 Auction printed catalog
or sign up for a link to the digital edition
Call for assistance: 888-8KAGINS (852-4467)
---
For more information about upcoming Kagin's Auctions:
Call: 888-8KAGINS (852-4467)
Email: Click Here
---
For information about Educational Benefits Click Here
---
To check out Kagin's Past Auction's Catalogs and Prices Realized Click Here
---
For important information about Kagin's Auctions Click Here