Kagin's Auctions September 2023 Online Live Auction
Part 2 of 2 Online Live Auctions: September 23rd, 2023, 4:00pm Pacific, 7:00pm Eastern
ONLINE NOW!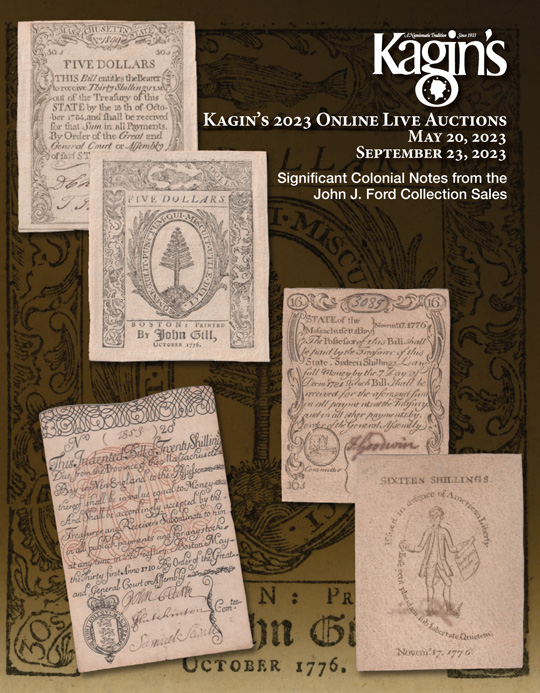 Click on Catalog Image to access the online flipbook
---
Significant Colonial Notes from the John J. Ford Collection Sales
215 COLONIAL CURRENCY notes from the JOHN J. FORD Collection featuring several FINEST KNOWN and UNIQUE Notes including 30 ERIC NEWMAN The Early Paper Money of America PLATE NOTES
---
Kagin's Auctions September Online Live Auction – John J. Ford Colonial Notes, Part II –
ONLINE NOW! Register to Bid online at Auctions.Kagins.com (iCollector)
---
Instructions for Registering to Bid Online (iCollector):
1. On upper right hand side – click on "Create Account" button
2. Create Username and Password
3. Fill in form: Name, Username, Password, Email Address
4. Click on "Yes, Keep me updated"
5. Click "Create Account" button
You will get an email saying: "Almost done, confirm your email address for Kagin's Inc."
6. Click on the "Confirm your email address" button in the email
Online bidders automatically get bidding paddle numbers starting with #9001.
---
Register for Book/Absentee Bids
Call for assistance: 888-8KAGINS (852-4467)
---
Register for Live Bidding
Call for assistance: 888-8KAGINS (852-4467)
---
Sign up for a link for Kagin's 2023 Auctions Online catalog
Call for assistance: 888-8KAGINS (852-4467)
---
For more information about upcoming Kagin's Auctions:
Call: 888-8KAGINS (852-4467)
Email: Click Here
---
For information about Educational Benefits Click Here
---
To check out Kagin's Past Auction's Catalogs and Prices Realized Click Here
---
For important information about Kagin's Auctions Click Here